SWP Series Plastics Crushers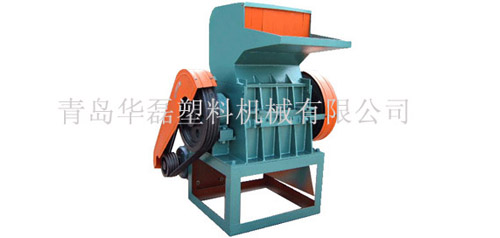 SWP series plastics crushers are primarily used to break up every kind of thermoplastic and rubber, such as plastics profile material, tube, stick, silk thread, film, discard old rubber product. The granule provide the extrusion and injection directly.
The plastic crusher, Model SWP-450 is an ideal equipment which can recover big blocks of profile and tube material, it characterized by big crushing ability, high yield and stable work function. Automatic absorber increases the automation degree of this machine. The type SWP-630 plastics crusher is a kind of special equipment used to break large plastics hollowness container, big piece materials in die, plate material.
There are all kind of water cold and fan cooling type , shear plastic and inorganic powder grinding equipments, which are low consume, little invest, good economic performance and can operation continuously under the normal temperature, extensively are applicable to each profession.
It is special used to break and recover the thermoplastic PVC, PE, ABS, PS, EVA, aluminum plastic composite tube, shoe sole, spiral tube, etc., rising economic benefit obviously. To fill 30-50% of grinded powder in process formulation, its various index signs of chemistry and physics performance keep constant compared to new material, the product is sold very well, and exported to many countries.
| | | | | | | | | | |
| --- | --- | --- | --- | --- | --- | --- | --- | --- | --- |
| | | | | | | | | | |
| 160 | 160 | 6 | 2 | 6-10 | 2-6 | 100-150 | 3 | 790*40*1175 | 300 |
| 200 | 200 | 3 | 2 | 6-10 | 2-6 | 150-200 | 4 | 800*640*1450 | 300 |
| 300 | 300 | 3 | 2 | 6-10 | 3-8 | 200-250 | 11 | 1245*880*1720 | 660 |
| 360 | 360 | 3 | 2 | 6-10 | 3-8 | 350-500 | 11 | 1600*1100*1460 | 1000 |
| 450 | 450 | 9 | 2 | 6-10 | 3-8 | 250-400 | 18.5 | 2180*1020*1810 | 1480 |
| 630 | 630 | 60 | 6 | 10 | 3-9 | 700-800 | 30 | 2535*1590*3000 | 6500 |
| 800 | 800 | 10 | 4 | 10 | 3-8 | 800-1000 | 55 | 1900*1500*3500 | 6500 |
SMP Water Cold Type High Speed Backset All-purpose Powder Grinding Machine

SMP400

SMP550

Inner Diameter of Breaking Chamber

∮390mm

∮590mm

3

3-4

30kw

37kw-45kw

PVC50-200KG PE20-60KG

PVC80-300KG PE30-100KG

20-120目

20-120目

1350*1100*1330(main body)

1250*1000*1810 (storage silo)

1500*1200*1600(machine body)
1250*1000*1810(storage silo)

1000kg

1600kg